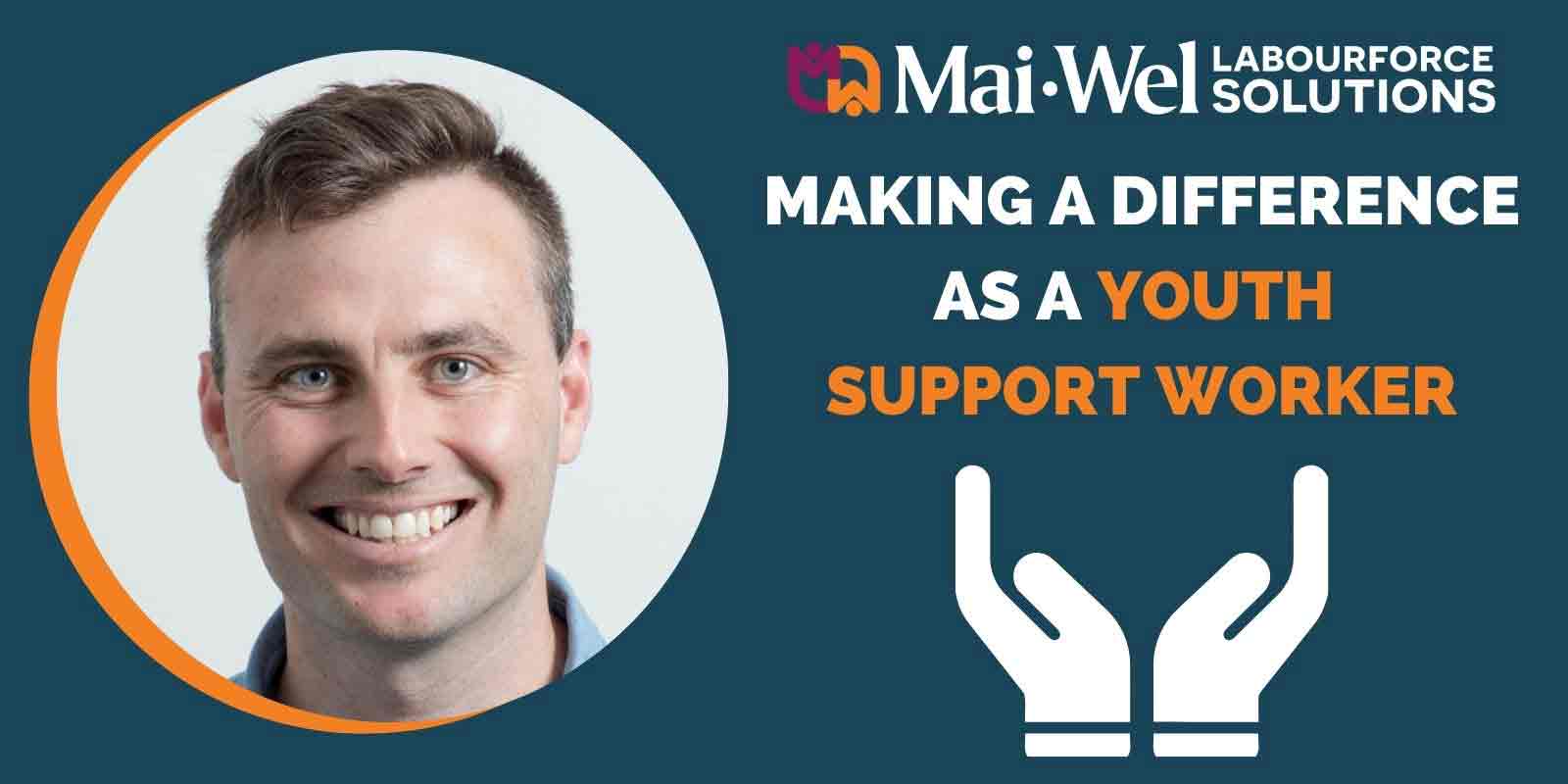 Making a difference as a Youth Support Mentor
"You should never underestimate how much impact you have as a Youth Support Mentor"
Matt is a Youth Support Mentor with Mai-Wel's Transition to Work (TtW) employment service, assisting youth who are experiencing barriers entering the workforce or study to find and achieve their employment goals.
"As a Youth Support Mentor, I engage with job seekers between the ages of 15 to 24 to either find a job in a field they're passionate about, or to help them enrol and complete study.
"Some people aren't job ready when they come to us, so it's my job to help them overcome the barriers that are stopping them from achieving their employment goals. This could be anything from fear of homelessness, drug abuse, or troubles at home for example. We focus on that first, so we can overcome those barriers or at least make it a bit easier so they can then focus on trying to study or get into work.
"Once job seekers reach their goal, we make sure to keep touching base and make sure it's all going smoothly. We'll make sure they're keeping on top of study, and help if they fall behind or get in touch with their training organisation to figure out how to provide them extra support. Or if they're working, we can connect them with our Post-Placement Support team, who will make sure they are still supported to maintain that job."
Matt says he can relate to the feeling many job seekers feel upon leaving school and not knowing what the next step is to take.
"In terms of finishing school, I had no idea what I wanted to do. I did go to university, but at 18 years of age I didn't want to commit to go back to school life right then and there. I started working part-time at McDonalds, and after 6 months I knew it wasn't what I wanted to do forever. I felt a little lost but was lucky enough to fall into a real-estate opportunity."
For the next twelve and a half years, Matt worked in real estate and came to rediscover his passion for law and helping people in need.
During his career, Matt worked with a number of different people in different phases in their lives which eventually led him to a passion in family law. Along with discovering an interest in helping people in difficult situations, Matt also found that he needed a role which allowed for more flexibility in regard to his family life.
"I really enjoyed real estate, but I was working 60 hours a week, 6 days a week while studying a Bachelor of Legal and Justice. When my wife became pregnant, I really wanted to be around the house a bit more and not constantly on the phone and answering emails. I wanted to be around for my family.
"I started to look at the types of jobs I could go into which would use my Bachelor's degree. It was at this point I saw the position as a Youth Support Mentor at Mai-Wel. With my own personal goal to work for the Department of Justice, I knew that working one-on-one with youth experiencing disadvantage was necessary to get into a government role one day.
"After 12 and a half years at one company that I went into straight after high school, I was hesitant to work somewhere else, but I've been so welcomed here.
"Now I work 5 days a week and have the flexibility to be there for my family when they need it. On Thursdays and Fridays my son goes to kindergarten, so I work from home on those days so I can drop him off and pick him up while my wife's at work. If I need to take off time to help the family, I can log in of an afternoon to make up the hours."
Matt says that despite knowing little about the role, he has been supported for over 18 months to gain confidence and has learnt a lot.
"I've always felt very supported. I came in knowing nothing and 18 months on I feel very confident in my role. I've met many people who have been here for years who absolutely love it. There are also people like me who are gaining so much experience and learning skills that are amazing for training and developing your career.
"I have had great support and encouragement from my management directly above me. I've never felt I've been in a situation where I can't bring something up or get help with something. The support and encouragement have been great.
"I'd definitely recommend Youth Support Mentor work for people who love engaging with people and building relationship. And no two days are the same. If you want variety and don't want to feel stagnant, TtW is perfect for you."
Working with youth experiencing barriers to employment, Matt has experienced several moments which have put the impact of his role as a Youth Support Mentor into perspective.
"I had one young man who came into my caseload who has cerebral palsy. He had a lot of traumatic events in his background, not much contact with his parents and hadn't learnt to walk until later on in life.
"He enrolled in TAFE and started studying support work. Now he's working as a Support Worker as well and is looking at getting a Service Lead position soon!
"I know he's interested in studying law down the track and although there's some barriers to entry if you don't finish Year 12, I know he's on track to making that goal a reality one day.
"You never know how much impact you make on someone in this role. You should never underestimate how much impact you have as a Youth Support Mentor."