Accredited Training
MWLFS partner with registered training providers to deliver a range of accredited training courses including TAFE NSW, REACH for Training, Learning Sphere, ATWEA and JobQuest.
Courses are implemented to develop job seeker skill sets, confidence and overall employability to meet local labour market demands. Skills for jobs that are available locally.
Courses can be Cert I, II or III and also short 'tasters' designed to give our job seekers a look at the industry and determine their interest. A key difference for training implemented by MWLFS is the delivery, we always try to have a heavy practical component rather than just class room delivery. We have found that the practical aspects of training delivery improves engagement and completion rates as well as increasing the overall learning. Courses are often held on site at MWLFS offices in Maitland and Cessnock, specifically for MWLFS job seekers.
Some examples of training opportunities available for job seekers:
Cert II Kitchen Operations
Cert II Horticulture
Bar Skills including RSA and RCG
Safe Food Handling
Coffee Skills

Cert II Skills for Work and Vocational Pathways

Basic Computer Skills and Administration, and more!
MWLFS Projects
MWLFS have a variety of activities that aim to build employability skills to improve employment outcomes for jobseekers including;
Accredited Training (VET) courses
Course 'Samplers'
Workskills Assess & Develop projects
PaTH Internships
Work Experience
Workplace tours
Check out some of our projects below:
Since November 2016, more than 50 jobseekers have taken part in Mai-Wel LabourForce Solutions' successful Jobseeker Work Skills Assess & Develop Project in partnership with Richmond Vale Railway & Mining Museum. The project provides jobseekers with opportunities to develop skills and capacity for work in cleaning, outdoor maintenance and basic construction.
Over a seven week period, jobseekers work with volunteers at the Museum each Friday, assisting with jobs to improve the facilities for the visiting public. Recent improvements completed by the jobseekers include the construction of raised garden beds and picnic tables in addition to gardening and grounds maintenance.
The upskilling of jobseekers enhance their future training and employment opportunities while meeting the demands of the local labour market by suppling suitably skilled and trained jobseekers to relevant local businesses.
If you would like to be part of the next group of jobseekers to participate in this project, please speak with your case manager.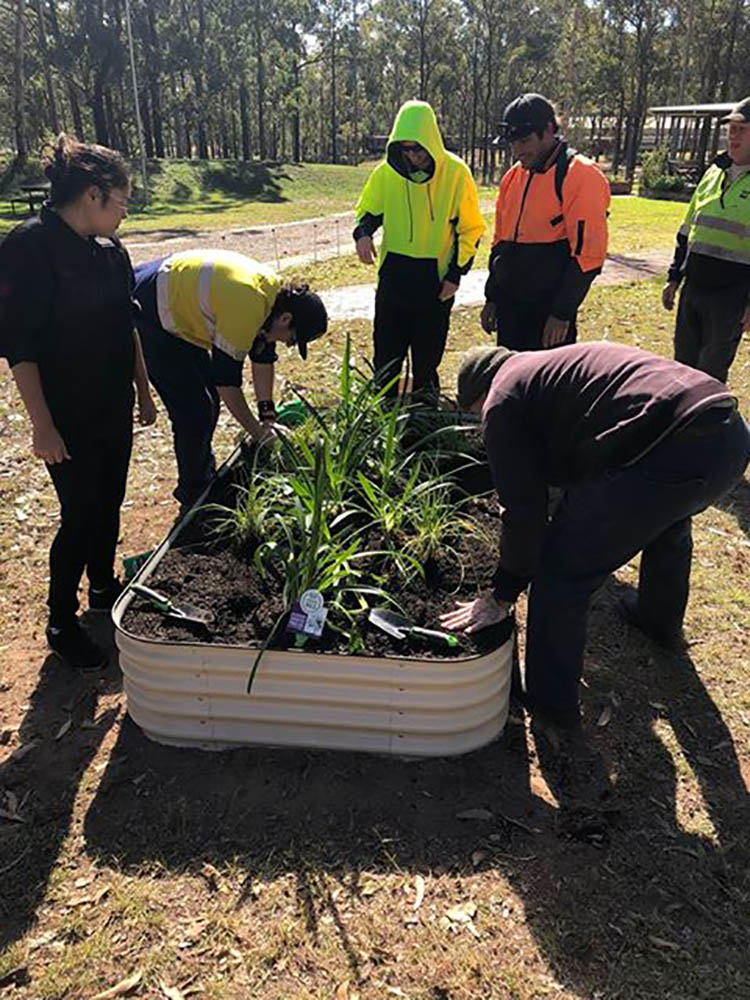 The Café, is a training space at Mai-Wel LabourForce Solutions' (MWLFS) Maitland office, that has been set up to replicate a working, commercial kitchen. The Café is a valuable resource for providing much needed, hands-on experience to jobseekers interested in pursuing a career in hospitality.
With trainer Teresa Campos from REACH for Training, jobseekers are use the space for their study for a Certificate II in Kitchen Operations. The training is delivered two days a week over a thirteen-week period, in a mix of classroom-based learning and practical exercises.
On the practical day of learning, the jobseekers have been providing a weekly coffee, snack and lunch service to Mai-Wel staff and participants. This has provided valuable experience in meal planning, managing orders, customer service and preparation of a variety of foods, including lasagne and fresh salads.
As part of their course, the jobseekers also complete 20 hours of work experience in the kitchens of local businesses such as Telarah Bowling Club, Hog's Breath Cafe and Opal Rutherford aged care service.
Once they have successfully completed their training, the jobseekers will not only have the qualifications, but the skills and experience to apply for a variety of roles in the kitchens of pubs, clubs, cafes and other service facilities
.
Read the latest news about MWLFS Workskills Development & Training

I am very grateful to the staff at MWLFS for helping me to find a job. Since I started work back in October I have felt more positive about myself and life in general. It feels good to know that I'm contributing to the community and it also feels good to have a little more money in my pocket. The training that was suggested helped me to gain the confidence to know that I can do the job.
I have always been interested in working in a florist. The training and work experience I did paid off and I now have a great job where I get to do the thing that I love most. The best part of my week is going to work.
I never thought that I would get a job but MWLFS helped me to start my career with an admin traineeship. Now, 9 years later, I have a job that I love, increased duties and responsibilities and loving what I do.

Contact
For more information about Mai-Wel LabourForce Solutions give us a call, drop by our offices or fill in our contact form and our team will be in touch with you soon.
Contact
For more information on Mai-Wel LabourForce Solutions, contact us via the information below or visit our contact page for further contacts.
6/555 High Street, Maitland NSW 2320